Earjobs™ MUSICMATE® High Fidelity Music Ear Plugs
ej-musicmate-m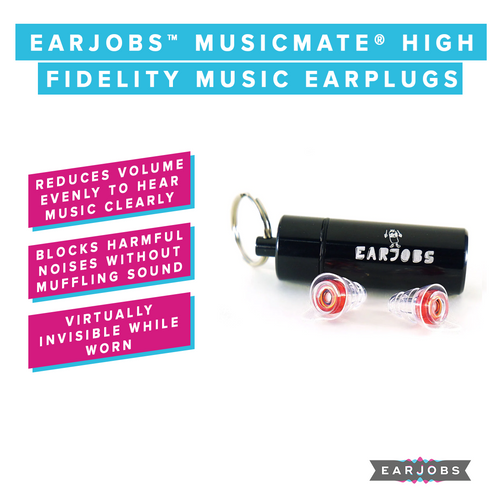 DESCRIPTION
*** NOW IN CHILD SIZE ***

From day one Earjobs has been looking out for the ears of Aussie music lovers. After years of researching the best ear plugs for music, we've finally developed our own. Second to none for comfort and value, the brand new Earjobs™ MUSICMATE® is a game changer for Aussie music lovers, festival goers and musicians.
Using specially developed membrane filters, Earjobs™ MUSICMATE® let you listen to music at a reduced volume without sacrificing sound quality or depth. No more headaches and ringing ears; only healthy ears and good times without the harmful noises.
Earjobs™ MUSICMATE® features and benefits:
Reduces volume evenly so you can still hear music clearly just at a reduced level
Blocks out harmful noises while maintaining full spectrum of sound; doesn't muffle sound like foam ear plugs
Super soft and comfortable design; no itching or pressure pain
Suitable for wear over long periods
Virtually invisible while worn
Comes with an aluminum carry case with keychain

Reusable and washable
Comes in Adult and Child/Small sizes
Perfect for music festivals, concerts, clubs, DJs, band practice and other noisy environments. Also great for motorsports, work, travel, shooting and sleep.
Signal-to-Noise Ratio (SNR) of 23.
Total 5 star reviews: 146
Total 4 star reviews: 43
Total 3 star reviews: 15
Total 2 star reviews: 6
Total 1 star reviews: 5
89%
would recommend this product
Protection
Rated 4.5 on a scale of 1 to 5
Quality
Rated 4.6 on a scale of 1 to 5
Comfort
Rated 4.2 on a scale of 1 to 5
Sally M.

Verified Buyer

Best earplugs

If you are going to any type of rock or metal gig, these are the ear plugs for you. Honestly 10/10 first time I've ever left a gig and not felt ringing in my ears for days afterwards

Protection

Rated 5.0 on a scale of 1 to 5

Quality

Rated 5.0 on a scale of 1 to 5

Comfort

Rated 3.0 on a scale of 1 to 5

Anthony M.

Verified Buyer

Perfect

Used them at a recent Jet concert and heard everything clearly without that usual muffled sound you get from ear plugs. Could hear the commentary clearly without the high end. I recommend these little plugs, there inconspicuous and work.

Protection

Rated 5.0 on a scale of 1 to 5

Quality

Rated 5.0 on a scale of 1 to 5

Comfort

Rated 5.0 on a scale of 1 to 5

Jenny D.

Verified Buyer

Used For

Concerts,

Festivals

10/10, do recommend!

I got these specifically for going to large events in arenas, and I was hoping in particular that they'd arrive before a WWE show I was going to. They arrived in time and they were a godsend! I could hear the entry music and announcers clearly, but at the average volume you'd have your TV at. Really helped take the edge off all the noise. I only really needed them for entrance music and any time someone was on the mics, during the actual wrestling matches I didn't need them. That said, I think I could easily wear them for a whole concert! One of my ear canals is a bit smaller than the other, but I had no issues with comfort.

Protection

Rated 5.0 on a scale of 1 to 5

Quality

Rated 5.0 on a scale of 1 to 5

Comfort

Rated 5.0 on a scale of 1 to 5

HS

Heidi S.

Good balance

These are comfortable, easy to clean and strike a good balance of being able to hear important things and muffling lower frequencies

Protection

Rated 5.0 on a scale of 1 to 5

Quality

Rated 5.0 on a scale of 1 to 5

Comfort

Rated 5.0 on a scale of 1 to 5

Marc G.

Verified Buyer

Comfortable and perfect for music gigs

My go-to for music gigs. Really comfortable and they don't sacrifice sound quality at all. Best of all no more ringing ears after hours spent watching bands.

Protection

Rated 5.0 on a scale of 1 to 5

Quality

Rated 5.0 on a scale of 1 to 5

Comfort

Rated 5.0 on a scale of 1 to 5
Reviews Loaded
Reviews Added