Alpine SleepDeep Reusable Sleeping Earplugs
alp-sleepdeep-m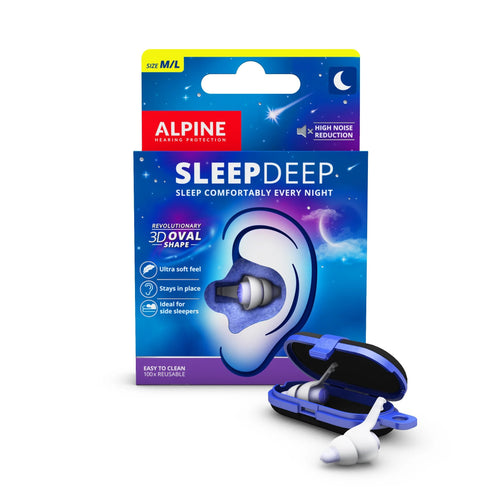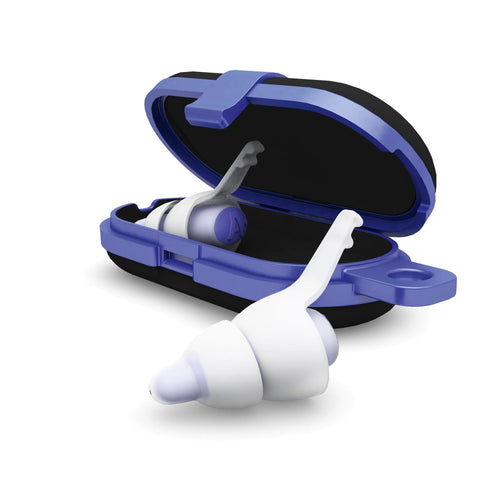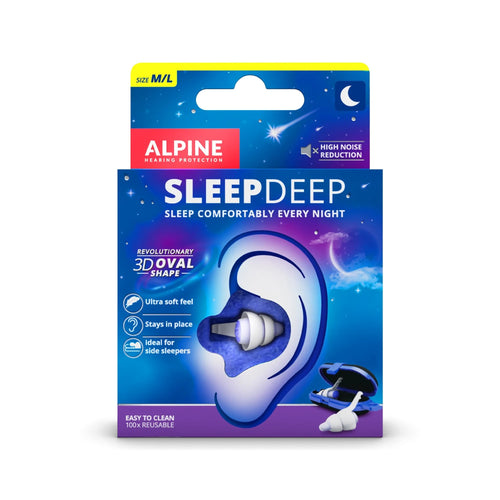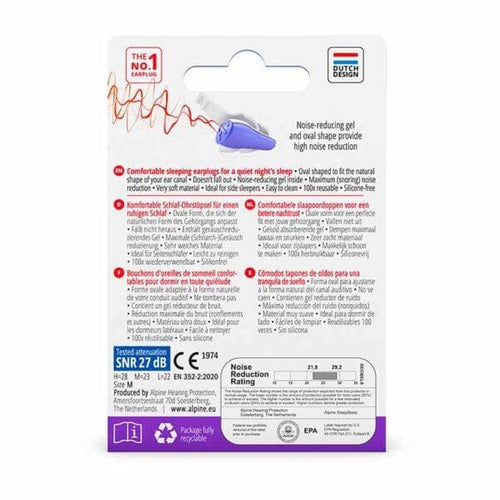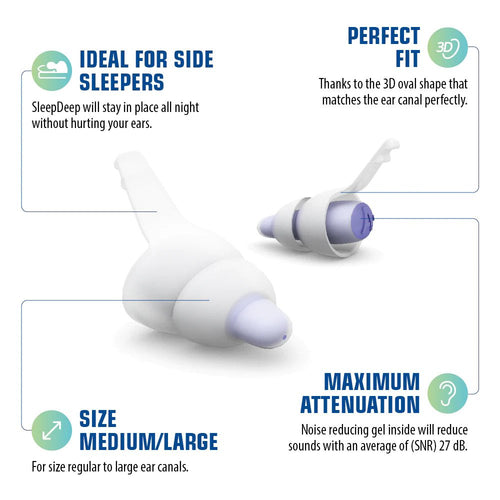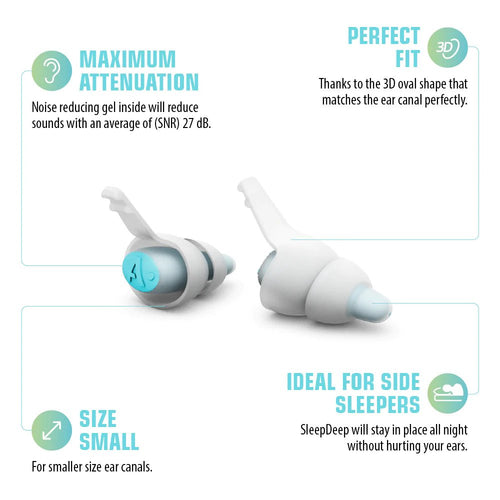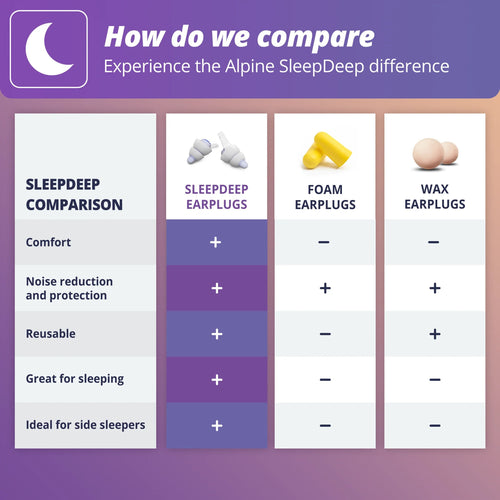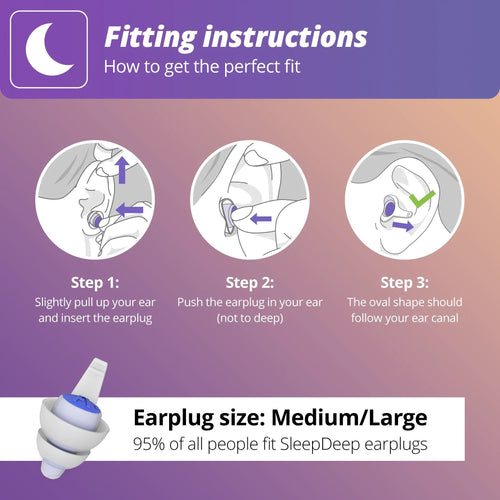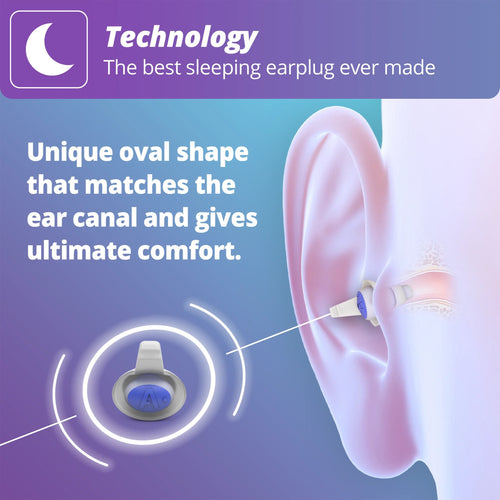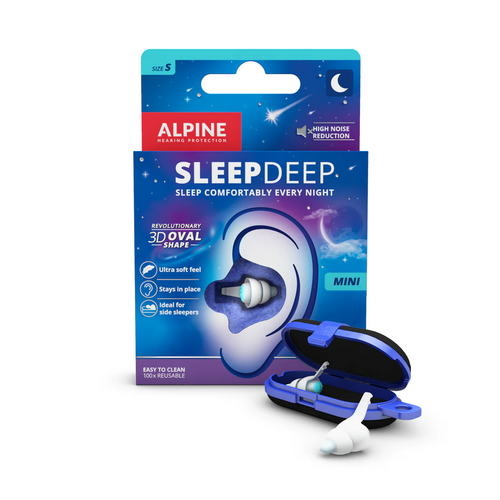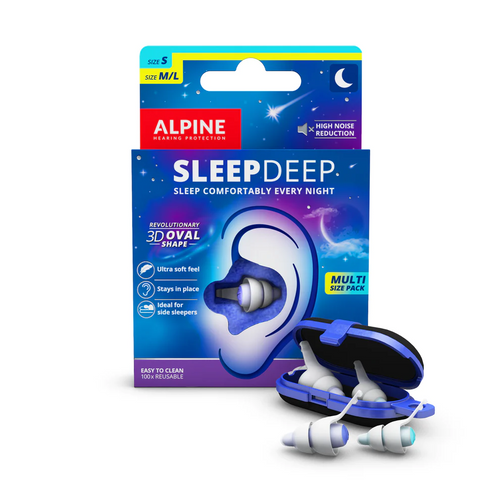 DESCRIPTION
Unique product specifications

Oval shaped to fit the natural shape of the ear canal
Doesn't fall out of your ear
Contains noise-reducing gel
Maximum (snoring) noise reduction
Made of very soft material Ideal for side sleepers
Easy to clean 100x reusable and silicon free
Regular size fits most ear canals except the very narrow ones
Mini size fits the very narrow ears
Multi-size pack includes a pair of both regular and mini ear plugs
Comfortable sleeping earplugs for a quiet night's sleep
SleepDeep is the next generation and most complete sleeping earplug there is! Its unique oval shape guarantees a perfect fit and ultimate comfort. Besides that, the noise reduction gel inside results in maximum attenuation. The high-quality material is easy to clean and 100x reusable, making this earplug the most hygienic and sustainable solution.
SleepDeep earplugs have an average attenuation (SNR) of 27 dB. Disturbing sounds will be muffled thanks to these earplugs, which makes falling asleep easier and prevents waking up easily. The innovative earplugs are made with specially designed thermoplastic material: AlpineThermoShape. Thanks to this material, the earplugs shape with your earcanal, fit perfectly and remain in place all night long. The AlpineThermoShape is hypoallergenic, does not contain silicons and therefore does not cause allergic reactions or annoying itches. In addition, SleepDeep contains Alpine Noise reduction gel that provides maximum attenuation.
Dutch Design
The SleepDeep earplug, travel case and packaging are fully designed and produced in the Netherlands. This is how we ensure the best quality.
Lifespan and cleaning
The lifespan of the earplugs depends on frequency of use but can go up to 100x reusable. Keeping the earplugs clean will extend the lifespan. The earplugs can be cleaned with lukewarm water and soap.
Packaging contents
Two SleepDeep earplugs and a luxurious travel case that fits perfectly in your pocket and stays on your bedside table.
| | | | | | | | | |
| --- | --- | --- | --- | --- | --- | --- | --- | --- |
| Frequency Hz | 63 | 125 | 250 | 500 | 1000 | 2000 | 4000 | 8000 |
| Mean Attenuation dB | 27,4 | 25,9 | 24,1 | 25,7 | 26,2 | 32,0 | 37,9 | 42,4 |
| Standard Deviation dB | 3,9 | 3,8 | 4,4 | 4,9 | 4,5 | 5,0 | 4,3 | 6,7 |
| Assumed Protection in dB (APV) | 20,5 | 22,1 | 19,7 | 20,8 | 21,7 | 27 | 33,6 | 35,7 |
Total 5 star reviews: 91
Total 4 star reviews: 17
Total 3 star reviews: 9
Total 2 star reviews: 14
Total 1 star reviews: 26
69%
would recommend this product
Protection
Rated 3.8 on a scale of 1 to 5
Quality
Rated 4.1 on a scale of 1 to 5
Comfort
Rated 4.0 on a scale of 1 to 5
Sue F.

Verified Buyer

Absolutely the best ever

These were absolutely wonderful. I have a problem with small bone lumps in my ears. I have been wearing ear plugs for 20 years. Have tried them all from custom made costing $300, wax, silicone, to foam. These are far more comfortable than any of them. Will be ordering a couple of spare ones after Christmas. Suggest you try them now.

Protection

Rated 5.0 on a scale of 1 to 5

Quality

Rated 5.0 on a scale of 1 to 5

Comfort

Rated 5.0 on a scale of 1 to 5

DT

Debbie T.

Verified Buyer

Best. Plugs. Ever.

I admit to being sceptical about these earplugs, but they are awesome! So soft and easy to put in. And reusable...what more could you ask for?!

Protection

Rated 5.0 on a scale of 1 to 5

Quality

Rated 5.0 on a scale of 1 to 5

Comfort

Rated 5.0 on a scale of 1 to 5

Vicki R.

Verified Buyer

Best so far

My partner is a "loud" snorer and hates seperate beds, for the first time in a while I am getting nights sleeps with these earplugs. By far they are the best I have used and I have tried them all and spent so much money on various designs. Well worth the money.

Protection

Rated 5.0 on a scale of 1 to 5

Quality

Rated 5.0 on a scale of 1 to 5

Comfort

Rated 5.0 on a scale of 1 to 5

ingrid m.

Verified Buyer

Best affordable sleeping earplugs

Very comfortable to sleep with (sidesleeper), not too pricey and good sound protection for price

Protection

Rated 4.0 on a scale of 1 to 5

Quality

Rated 5.0 on a scale of 1 to 5

Comfort

Rated 5.0 on a scale of 1 to 5

Liz H.

Verified Buyer

Great purchase

Comfortable and soft earplugs that don't fall out. Would definitely recommend product.

Protection

Rated 5.0 on a scale of 1 to 5

Quality

Rated 5.0 on a scale of 1 to 5

Comfort

Rated 4.0 on a scale of 1 to 5
Reviews Loaded
Reviews Added