Earjobs™ Comfy Wax Ear Plugs (SNR 23)
ej-wax-6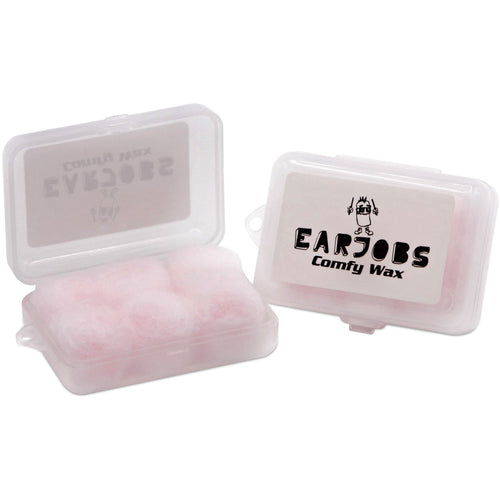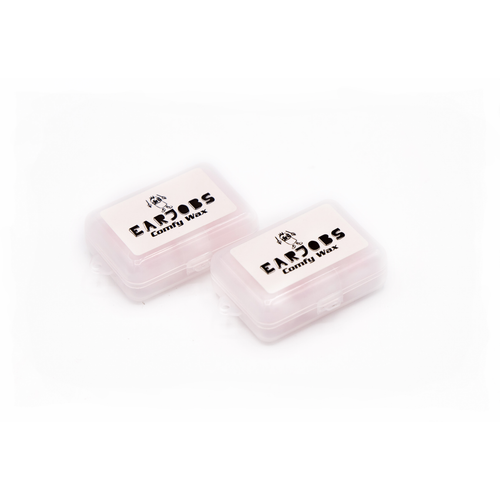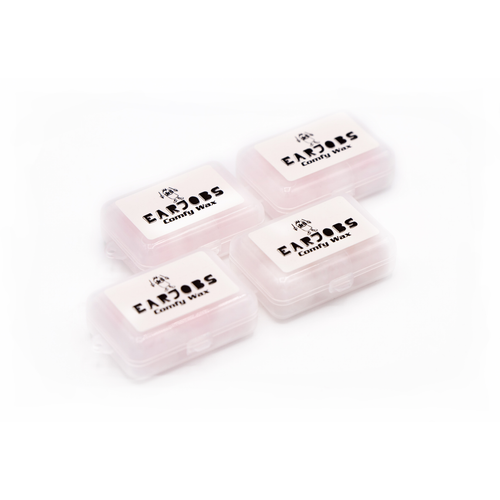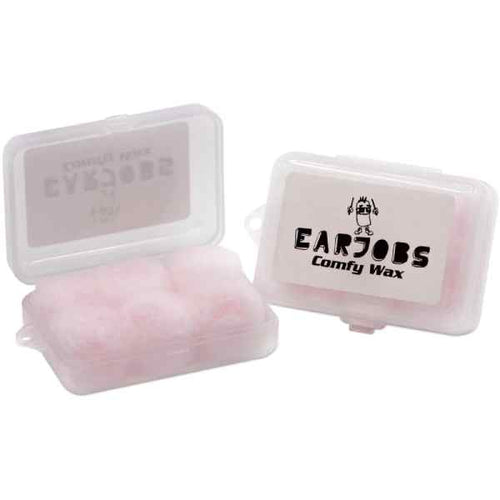 DESCRIPTION
Earjobs™ Comfy Wax Ear Plugs are made from cotton and lanolin. They provide a comfy fit into the ear canal while creating a snug seal against noise or water entry. Ideal for sleep, study, travel or noisy workplaces. Swimmers and bathers can keep water out of their ears.
Hypoallergenic - won't flare up your ears like some traditional silicone earplugs

Comfy - cotton and lanolin material means they are super soft and comfortable


Perfect Fit - will fit to each and every ear

Multipurpose - can be used to block out sound and seal against water

SNR 23
Available in
Standard Pack (6 pairs),
Value Pack (12 pairs) or Jumbo Pack (24 pairs)
.
Handy plastic containers included.
Instructions
Remove the cotton before inserting.

Warm by kneading in hand to soften, then insert.
Total 5 star reviews: 73
Total 4 star reviews: 19
Total 3 star reviews: 5
Total 2 star reviews: 4
Total 1 star reviews: 2
89%
would recommend this product
Protection
Rated 4.4 on a scale of 1 to 5
Quality
Rated 4.6 on a scale of 1 to 5
Comfort
Rated 4.4 on a scale of 1 to 5
Kimberley C.

Verified Buyer

Positive feedback

Very comfortable to wear. Easy to put in... however i do use 1 and a half ball for each ear, 1 i find is a bit small and worried it could get stuck.

Protection

Rated 5.0 on a scale of 1 to 5

Quality

Rated 5.0 on a scale of 1 to 5

Comfort

Rated 5.0 on a scale of 1 to 5

Jim B.

Verified Buyer

Perfect!

I've tried lots of different ear plugs over the years but none work as well as Earjobs. They even drown out the missus' snoring!

PERFECT!

Protection

Rated 5.0 on a scale of 1 to 5

Quality

Rated 5.0 on a scale of 1 to 5

Comfort

Rated 5.0 on a scale of 1 to 5

Bernd S.

Verified Buyer

Mr Bernd Schacht

The Earjob Comfy WaxEarPlugs are doing the job of keeping my snoring noises out and my wife gets a good nights sleep.

Protection

Rated 4.0 on a scale of 1 to 5

Quality

Rated 4.0 on a scale of 1 to 5

Comfort

Rated 4.0 on a scale of 1 to 5

Joy D.

Verified Buyer

Great sleep Aids

I have always found them to be so comfortable and noise-cancelling which greatly enhances my 'sleep quality'.

Protection

Rated 5.0 on a scale of 1 to 5

Quality

Rated 5.0 on a scale of 1 to 5

Comfort

Rated 5.0 on a scale of 1 to 5

Nicola A.

Verified Buyer

Great noise cancellers

These have been a life saver! Have a husband who insists on snoring every night - now we can both get some sleep.

Protection

Rated 4.0 on a scale of 1 to 5

Quality

Rated 4.0 on a scale of 1 to 5

Comfort

Rated 4.0 on a scale of 1 to 5
Reviews Loaded
Reviews Added