QuietOn 3.1 Noise Cancelling Sleep Earbuds
quieton3.1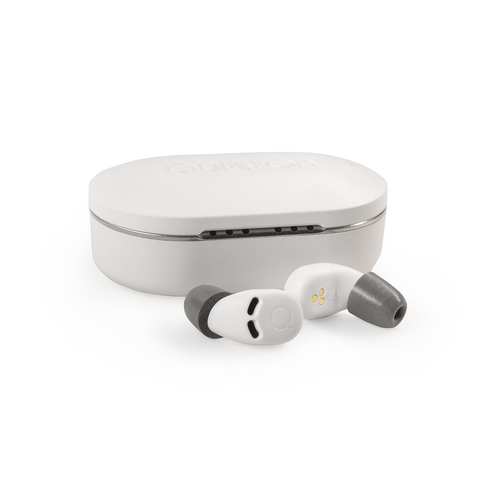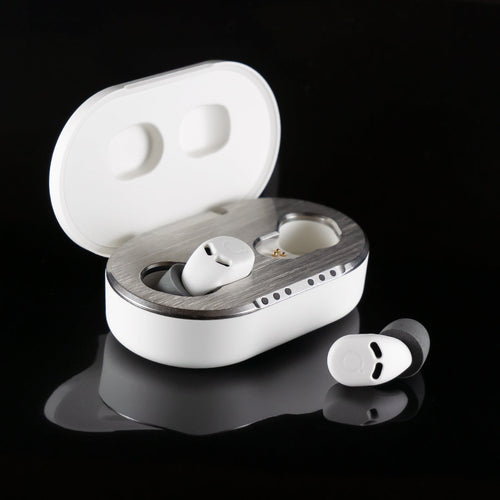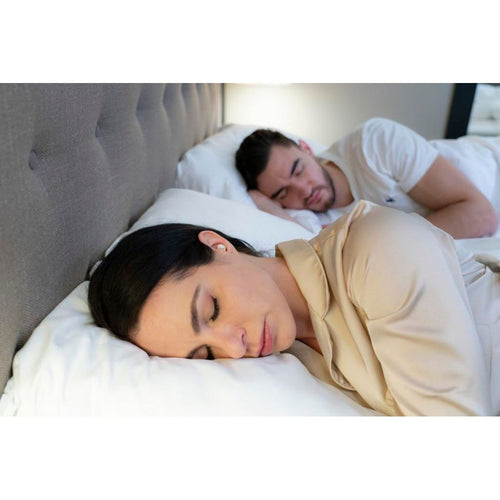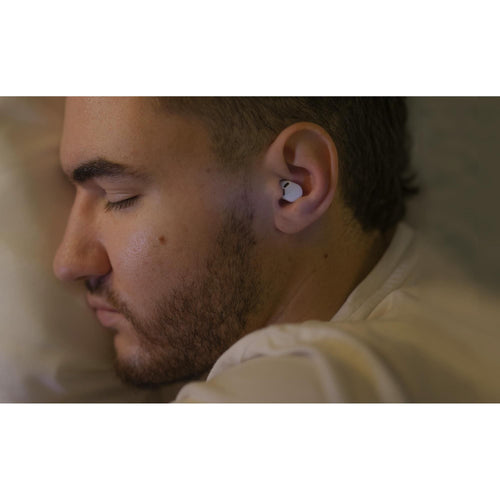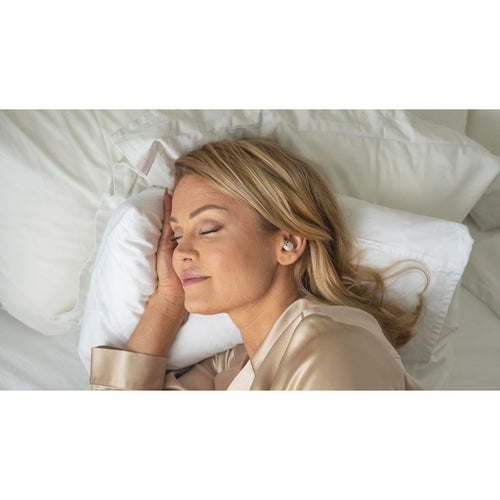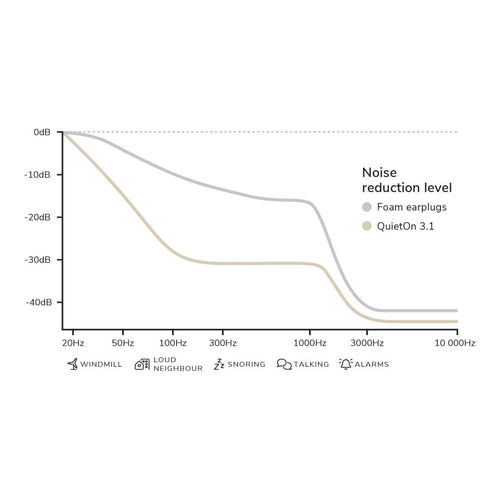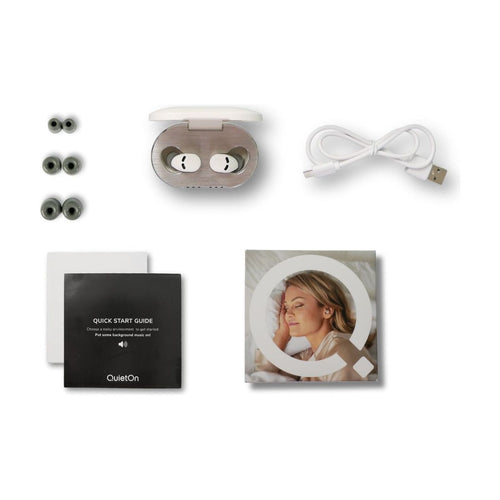 DESCRIPTION
30 DAY MONEY BACK GUARANTEE!
QuietOn 3.1 effectively reduces sounds disturbing your sleep, delivering a peaceful night so you can begin each day with a fresh mind.
Premium quality Active Noise Cancelling technology
Best fit – so small that they are also suitable for side sleepers

Use cases: reduces disturbing noises such as snoring noise, city noise, or noisy neighbors. Excellent also when traveling!

Designed for sleeping, no masking sound, no Bluetooth connectivity (no music listening), no electromagnetic field (EMF) radiation
You can still hear your alarm clock when wearing the earbuds
Long battery life, 28h/ single charge
Comes with soft and comfortable eartips in different sizes

30-day money back guarantee
Package includes: QuietOn 3.1 earbuds, eartips (XS, S, M, L), charging case, charging cable.
Technology used Active noise cancellation and passive noise attenuation to reduce noise. Active noise cancelling technology is able to reduce low frequency sounds that ordinary passive earplugs are not able to address.
Product features Active noise cancelling optimized to cancel snoring and other ambient noises, 28 hours of battery life per single charge, Superior comfort with soft earpads, in-ear design and super light weight, Safe and skin-friendly materials, Charging case with inbuild battery
Weight of an earbud / Charger 1,8g / 59g
Weight of complete sales package 150g
Dimensions, packaging 12 x 12 x 4,6cm
Battery Earbuds: lithium-ion 17mAh, integrated Charging case: lithium-ion 200mAh, integrated
Charging interface USB-C 
Product / material composition Plastic (PC-ABS, PMMA, polycarbonate), polyurethane rubber, stainless steel, gold
Preferential origin Made in EU (Poland), designed in Finland.
Certifications Content CE, compliance with UL/CSA/IEC/EN 62368, QuietOn 3.1 earbuds (left / right), Charging case, USB-C cable, Four pairs of replaceable ear tips (extra small, small, medium, large), User guide (English)
Returns 30-day money back guarantee, 1-year international warranty
Total 5 star reviews: 38
Total 4 star reviews: 9
Total 3 star reviews: 6
Total 2 star reviews: 4
Total 1 star reviews: 11
69%
would recommend this product
Protection
Rated 3.7 on a scale of 1 to 5
Quality
Rated 4.1 on a scale of 1 to 5
Comfort
Rated 3.8 on a scale of 1 to 5
Tobias W.

Verified Buyer

These kick arse for noise reduction when I sleep during the day.

Love them, for me they are just a small step up from my loop earplugs.

Protection

Rated 5.0 on a scale of 1 to 5

Quality

Rated 5.0 on a scale of 1 to 5

Comfort

Rated 5.0 on a scale of 1 to 5

Dirk S.

Verified Buyer

Proven wrong

I was skeptical but pleasantly surprised. I can now endure my wife's snoring and have a good night's sleep.

Protection

Rated 3.0 on a scale of 1 to 5

Quality

Rated 5.0 on a scale of 1 to 5

Comfort

Rated 3.0 on a scale of 1 to 5

sinead c.

Verified Buyer

Game changer

I'm such a light sleeper and these are incredible. So excited to fly long haul with them and use them every night and also to meditate! Very pricey but worth it for amazing sleep

Protection

Rated 5.0 on a scale of 1 to 5

Quality

Rated 5.0 on a scale of 1 to 5

Comfort

Rated 5.0 on a scale of 1 to 5

Kiran V.

Verified Buyer

Great product which justifies the price tag!

I was skeptical at first and wasn't sure if the price could be justified. Just glad that I took the leap and bought this product. It's a game changer for me regarding my sleep (I am a very light sleeper). Quality product and hopefully it continues to perform in the future.

Protection

Rated 4.0 on a scale of 1 to 5

Quality

Rated 5.0 on a scale of 1 to 5

Comfort

Rated 5.0 on a scale of 1 to 5

Debra Watkiss (.

Verified Buyer

Great earbuds abd quiet 3 unit they fit. Helps me sleep the best ever says my fit bit. Long lasting

Protection

Rated 5.0 on a scale of 1 to 5

Quality

Rated 5.0 on a scale of 1 to 5

Comfort

Rated 5.0 on a scale of 1 to 5
Reviews Loaded
Reviews Added